The Place and the People we worked with
Poole Harbour is one of the largest estuaries with an enclosed, lagoonal character in Europe.  The site, encompasses a number of estuarine  and wetland habitats, including saltmarshes, reed beds, mudflats and small beach areas.  The Harbour is of high ecological value with a diversity of sensitive habitats and species, covered by a host of national, European and international nature conservation designations, including RAMSAR site, Site of Special Scientific Interest (SSSI), Special Protection Area (SPA) and Area of outstanding Natural Beauty (AONB).
Project officers worked with a variety of local and national stakeholders, including the Poole Harbour Steering Group, Poole Harbour Commissioners, watersports businesses, activity specific clubs, National Governing Bodies, nongoverning bodies and organisations (e.g. British KiteSports Association, National Trust, Dorset Wildlife Trust). Questionnaires were developed in partnership with economic scientists from Plymouth Marine Laboratory and with input from local stakeholders.
The Process
Poole Harbour is well known for being one of the best places in the UK to undertake certain watersports such as kitesurfing and windsurfing. However, even with available visitor spend figures, there is still very little information available about the value of recreational activities or the marine environment that provides the means for these activities to take place.
This study focused on valuing a range of these activities including kitesurfing, windsurfing, kayaking, waterskiing, jetskiing and birdwatching. This was done using questionnaires and the Travel Cost Method. As well as gaining monetary value information, we also built a profile of the people undertaking these activities, and improved our understanding of the attributes of their experience in Poole Harbour that were most important (Figure 1). The data allowed us to understand how the harbour is currently used, the interactions between different recreational activities and how potential changes to the harbour would affect people's decisions to return to the area (Figure 2).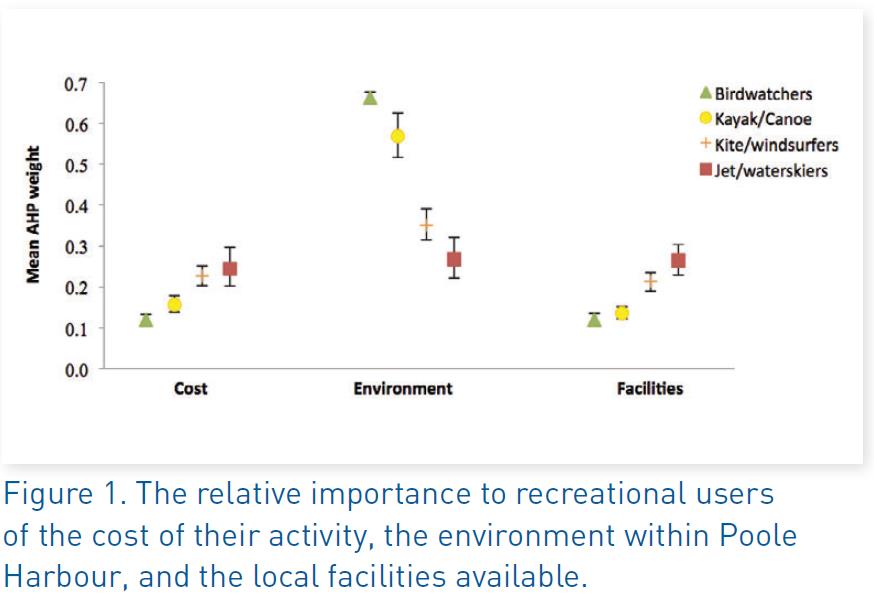 In addition to the questionnaires, counts were done of recreational users which could be extrapolated to estimate a total value of each activity to the local and wider economy (Figure 3).
To supplement this information data was also collected through citizen and opinion panel surveys to determine how important the harbour is for residents of the area. Results from the VALMER questionnaires were presented to a variety of stakeholders and as a result a Poole Harbour recreation forum was established bringing recreational user groups and watersports businesses together to share information and work on joint opportunities.
The Results
546 people completed the questionnaires, with half of the respondents living locally to Poole Harbour. Results show respondents are on average willing to travel further to Poole Harbour compared to a closer, substitute site and the harbour is especially important for beginner and intermediate kitesurfers and windsurfers. The results show most respondents were happy with the current management in place for their activity in the harbour. The results also identify factors of change that would increase/decrease the number of return visits and overall visitor numbers to the area in the future, provide an insight into the qualities a visitor is looking for and suggestions for improving the management of their activity.
Results from these questionnaires have also provided an economic value in the form of an average spend per person per activity per year in GBP/£. These figures have then been extrapolated using the total number of people undertaking each of these six activities to give a total overall economic value per activity in GBP/£.
Implications for Governance
This information along with the questionnaire responses may be used to improve management of recreational activities, inform decision-making and trade offs if this were ever necessary and potentially improve facilities.
For more information on the Poole Harbour case study please contact Ken Buchan: K.Buchan@dorsetcc.gov.uk